After being blown away by the support and love from the results of the Australian Nappy Association's Cloth Nappy Awards we've decided to do a blog series focussing on each of the award categories. This week we're looking at one of our favourite products, our newborn cloth nappy Bambams. Bambams won Best Newborn Nappy as voted by our customers, which is amazingly flattering, but they also won Best Newborn Nappy in the Retailers Choice Awards which means so much to us as well. These ladies get to play with all sorts of different nappies and brands all day and as such, we value their opinions very highly. So this week we're going to hear from some of our favourite people, our biggest supporters and advocates... our wonderful retailers!
Maree from The Nappy Bucket
"The reason why I recommend Bambams is purely because I love their shape, the ease of fitting and their absorbency for new bubs. When converting first-time cloth users, I like to keep things super simple and the Bambams are just that, no fuss, no muss, just a brilliant little nappy to easily slot in when you are in the first few weeks of a newborn bub. I also love the feel of them, they feel really nostalgic and look too darn cute on a precious new bundle."
Megan from Baby Blossom
"The reason we recommend Bambam, in particular, is in part due to their good quality and lovely soft bamboo fabric but they are also a great, easy-to-use option for first-time mums who are worried about flats vs modern cloth nappies, snaps vs velcro etc. The Bambams are just a simple, no fuss option with all the benefits of a fitted (ie no folding like with flats). So it's really their easy-to-use, well-fitting design that makes them stand apart and work so well for our customers."
Alice from Nappy Lane
"I voted for Bambams in the Cloth Nappy Awards because they are such a versatile newborn nappy. I love that they can fit a day-old premmie baby as well as a 6-month-old. Most other newborn MCN's are only used for 6-10 weeks, where Bambams can be used for months and parents get more bang for their buck. I run a newborn nappy library so get to help a lot of parents in the newborn phase. There are often tiny little babies who have an epic wee capacity and out-wet other brands of newborn nappies. I include Bambams in my nappy library as they can fit any shaped baby and have great absorbency for the super wee-ers."
Samantha from Mumma Loves Bubba
"Bubblebubs Bambams are one of my favourite newborn nappies as I love the fact I can get a perfect fit everytime regardless of babies size. They have fitted both my smallest and biggest babies from birth. I find them to be one of the most economical newborn options as well as in my experiences they have fitted my babies the longest out of many of the other options. They can also be easily boosted unlike many other newborn options making them perfect for when baby starts to wee more. Lastly, they are simple to use and can be easily changed in the middle of a long sleep deprived night."
Vashti from Nest Nappies
"Nest Nappies loves our Bambams by Bubblebubs.  We have found they are a really versatile nappy for every newborn and love that they fit bubs of all shapes and sizes. The fact they have no snaps or velcro means that you can get the perfect fit for your precious new addition every single time. Being a fitted nappy, they allow you to customise the absorbency by adding a small booster inside the nappy or by adding something a little more heavy duty outside the nappy before you pop the cover over the top. Bambams will always be a fave at Nest Nappies and we love they won the Retailers Choice Award for Best Newborn Nappy."
Naurelle from Tots and Toddlers
"Bam Bams truly are a one-size nappy for newborns - they just seem to fit like a glove! They are also versatile, in that they can be used with or without a cover, with or without a fastener (like a Snappi) and even with extra boosting between the nappy and cover if desired. No wonder so many people love them!"
And just for fun, we have some pics of cuties in their Bambams...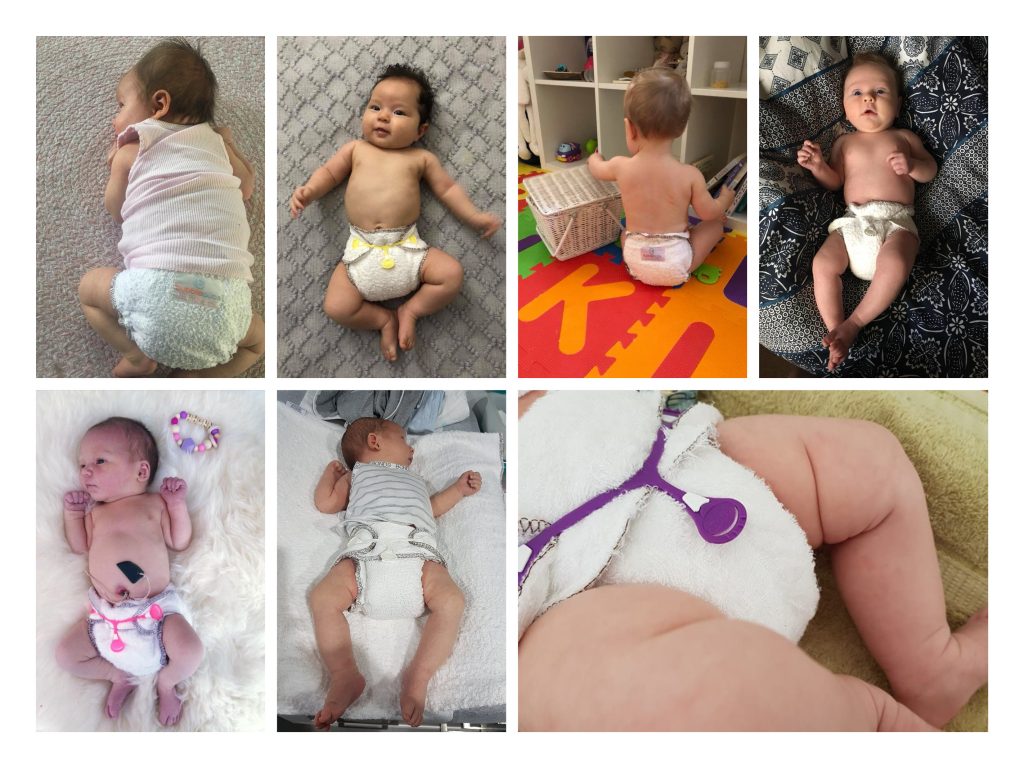 To see what else took away an award in this year's competition click here.