Bambam | Newborn Cloth Nappy | Bubblebubs
Bambam Newborn Cloth Nappy
Bambams are a fitted cloth nappy specifically designed to fit every single newborn, no matter how small they are! 
Made from 2 layers of thick and lush bamboo terry means the whole nappy is not only super absorbent but it moulds to fit a newborn perfectly. 
So perfectly, in fact, we guarantee it.
How To Put On A Bambam With A Cover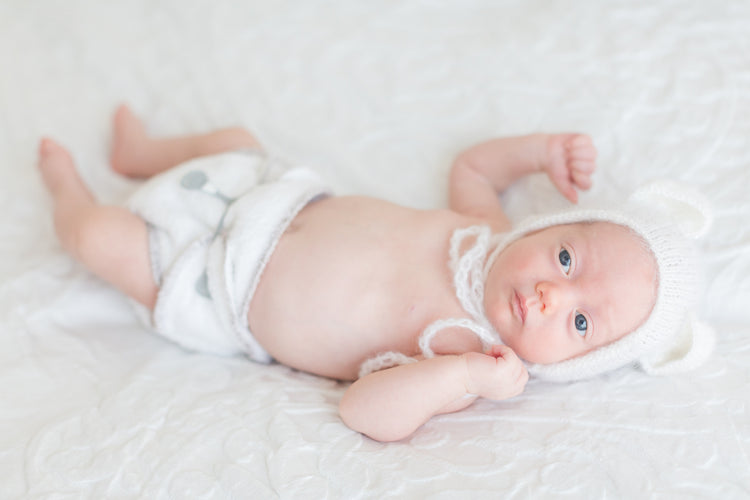 Easy To Use Newborn cloth nappy
With the Bambam's anyone can change the nappy. It's so easy that even grandparents and child care workers will be able to manage it. You do not have to mess around with pins or folding the nappy before you put it on. 
Bambams will mould to your baby's shape as they grow and change shape. Simply put on the Bambam, do it up with a Snappi then finish with the Cover.
Buy Bambams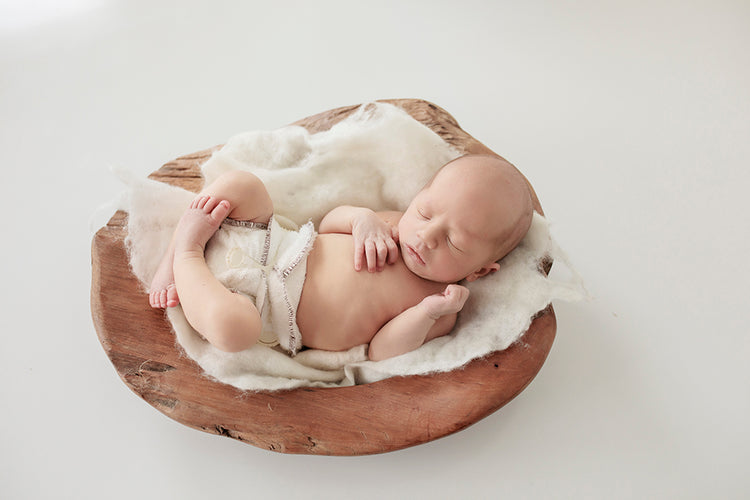 No Pins Or Nappy Origami
Secure your baby's nappy in three easy steps with a stretchy fastener and grippy teeth. Snappi's are safe, easy to use and come in an array of fabulous bright colours.

These easy to use nappy fasteners are made from a stretchable, non-toxic material, which is T-shaped with grips on each end. These grips hook into the cloth nappy to ensure a snug but comfortable fit for baby making the use of cloth nappies easy and ouch less! (for you and baby).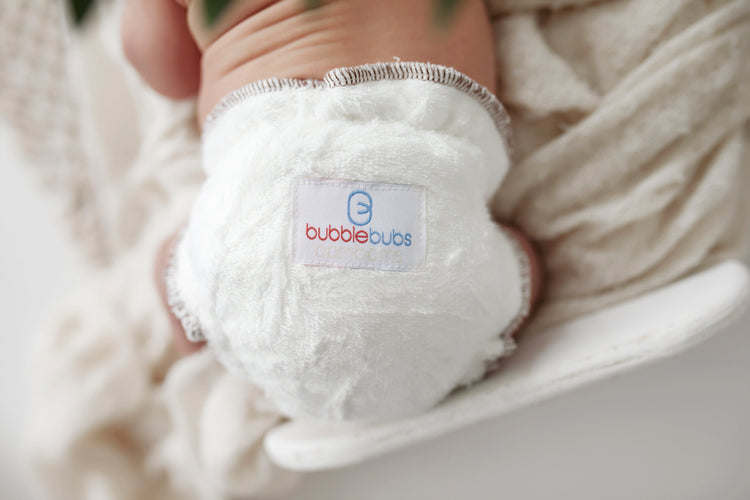 They Are So Soft, With Our Custom Milled Fabrics
You can not buy the fabric used to make Bambam's. We milled it to our high standards, making them the softest and most absorbent cloth nappy available today. There is nothing more natural against your newborn baby's skin.
No Pressure Cloth Nappies

Having a baby is pressure enough. You do not need more with a confusing cloth nappy system. Bambams are easy to put on take off and wash, dry and put back on again.

Australian Designed And Ethically Created

Pair text with an image to focus on your chosen product, collection, or blog post. Add details on availability, style, or even provide a review.

Easy To Wash And Quick Drying

Together the nappy is super absorbent. But take it apart and it washes and dries quickly. We designed this nappy to quickly go from dirty to clean fast. That's why you only need 24, not 30+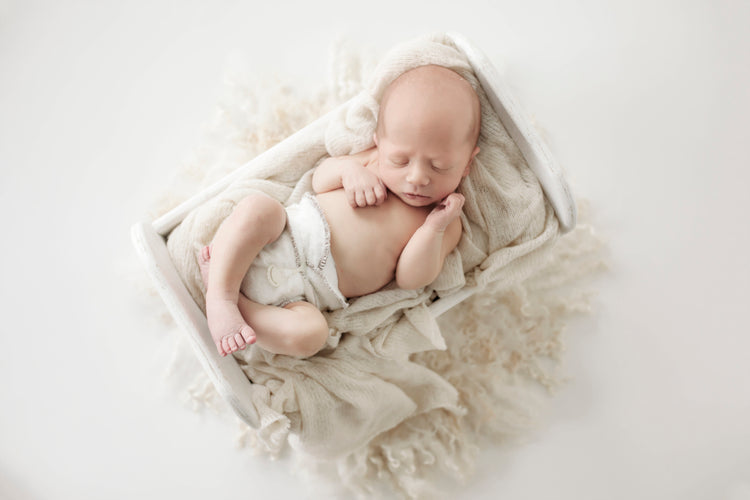 Will Fit Any Size Baby
Because they do not use snaps or velcro to do up, they will adjust to fit any baby. You also do not have to mess with pins. They use a Snappi to do up, which gives them the flexibility to fit any baby, any shape, and any size.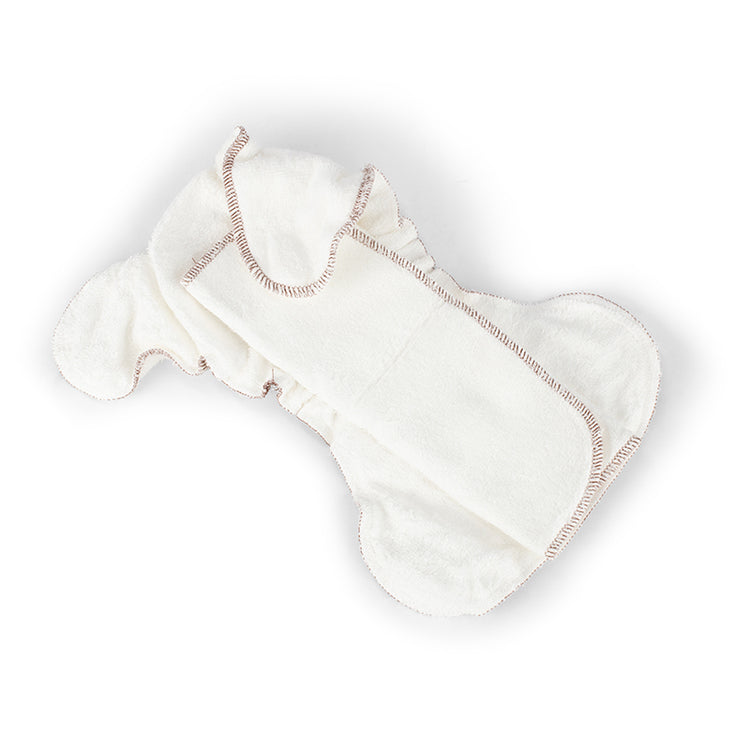 Made Of Thick, Soft, Lush Bamboo Terry
Bambams are made of 2 layers of thick lush bamboo terry and a booster made from the same fabric. Fold the booster in 2 so you have 6 layers of thick, lush bamboo around your baby's pressions new skin. Put a cover on and nothing gets past this nappy and cover.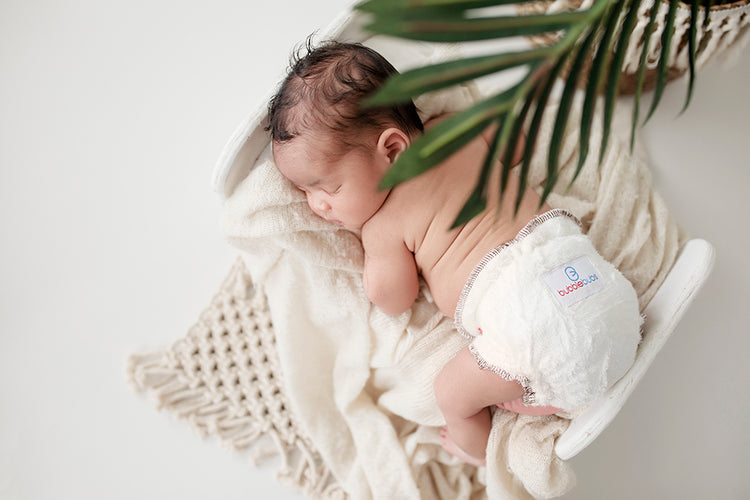 Soft Elastic and No Folding
This is a fitted newborn cloth nappy. It has soft elastic around the important parts. So you can not make a mistake and end up in a mess. Anyone in the house will put this nappy on and get a great fit every time.

In all the important bits of the nappy. This is the secret to why this nappy is so easy to put on and how it keeps everything contained so well. It hugs your baby's leg and waist, leaving no marks.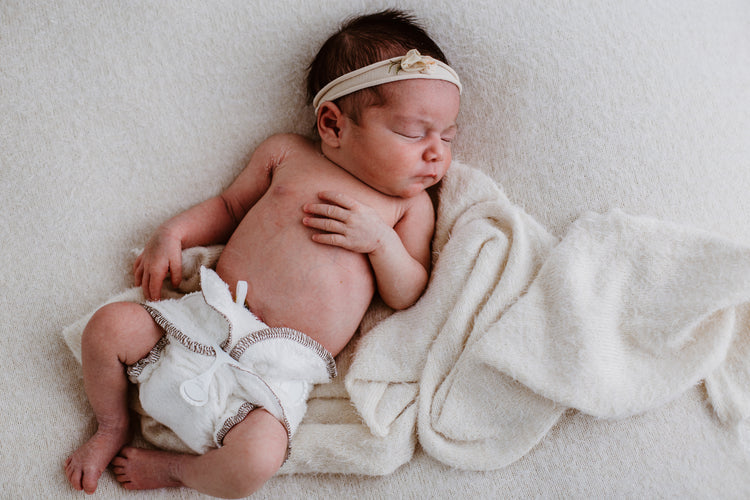 Designed to last
You will wash each of the 24 Bambams over 180+ times each for your first baby. There are few clothes that can be washed that many times and still be any good. We made Bambam's not just for one baby, but for all your babies. Just store them clean and dry in a cool dry place and bring them out for your next baby.
Bomb Proof Newborn Cloth Nappy
Considered Bomb Proof Against Leaks

You have soft elastic around the let and waste and a double gusseted nappy cover. Nothing gets past.

Molds To Fit Newborns Perfectly. Fits From 1.1Kg To 8Kg

Not only does the nappy have soft elastic, but the nappy fabric can stretch. So no matter how your baby changes shape, the nappy will stay on even with all the legs kicking.

Makes Nappy Changes Simple And Quick

A well-prepared change table and a well-designed nappy are key. Bambams will mould to your baby's shape as they grow and change shape. There is nothing confusing about this nappy. It goes on easy does up with a Snappi then a cover and done.