The Australian Nappy Association have just released the results of their third annual Cloth Nappy Awards for 2018 ….. and we are so thrilled to announce that we are winners!! We are absolutely blown away and humbled by your support and love of our brand and our products. This is a quick post to share our winning products and to say thank you. But keep an eye out in the coming weeks for a blog post on each of our winning products.
Thank you to all of our lovely customers and stockists who support this Australian cloth nappy business, we can't thank you enough! You are the reason that we do what we do and we couldn't do it without your support. We've had a lot of growth over the last year and we are so excited about what's yet to come. Stay tuned and keep up to date by signing up for our mailing list.
[caption id="attachment_962" align="aligncenter" width="710"]
Best Brand - Bubblebubs
[/caption]
Bubblebubs was born out of financial necessity when Vicki went on maternity leave with her first born 15 years ago. She started making cloth nappies for her daughter and soon friends started asking to buy them. In the intervening years Bubblebubs has grown to be on of Australia's largest cloth nappy retailers and wholesalers, producing a wide-range of cloth nappies and accessories. Bubblebubs primary focus has always been "bums in cloth" and educating and empowering new parents to give cloth a try.
[caption id="attachment_963" align="aligncenter" width="710"]
Best customer service - Bubblebubs
[/caption]
At Bubblebubs, we pride ourselves on our excellent, friendly and helpful customer service. We are here to help you every step of the way from thinking about cloth nappies, to buying them and then any little hurdles that may pop up! At Bubblebubs we love families and when you buy from us you are instantly part of the Bubblebubs family - where help and support is always available.
[caption id="attachment_964" align="aligncenter" width="710"]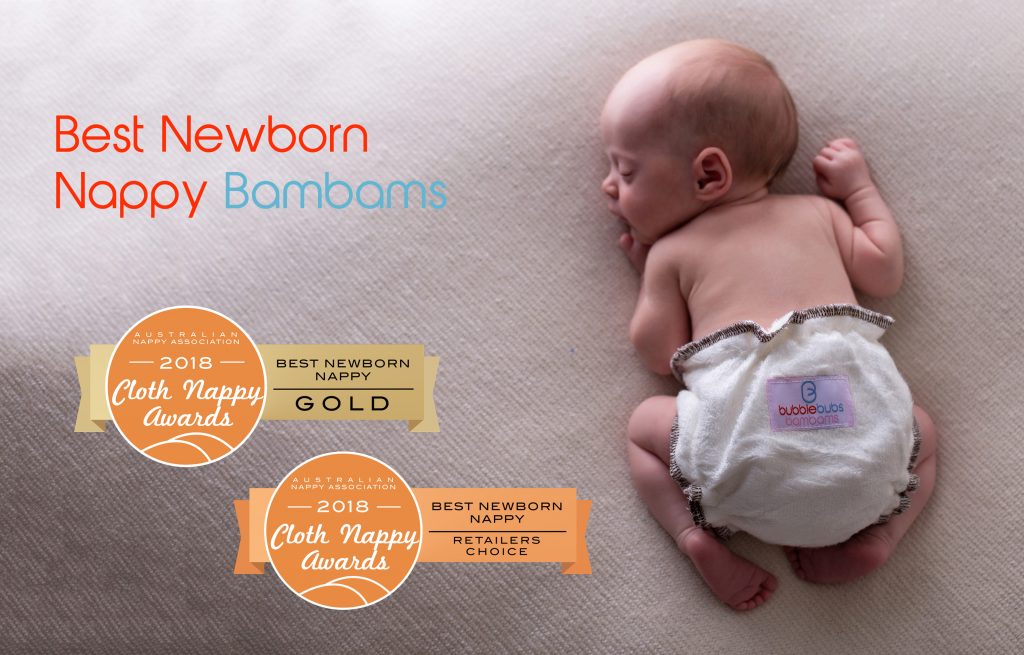 Best newborn cloth nappy - Bubblebubs Bambams 
[/caption]
Bambams are Australia's favourite newborn nappy, chosen by both retailers and consumers! They are a fitted nappy that does up with a Snappi so they fit every baby every time. Bambams have a huge weight range of 1.2kg all the way to 8kg. They're lovely and soft against bub's skin and because they have a separate waterproof cover they provide two layers of protection from explosive newborn poos! To see how to fit a Bambam newborn nappy check out this video.
[caption id="attachment_965" align="aligncenter" width="710"]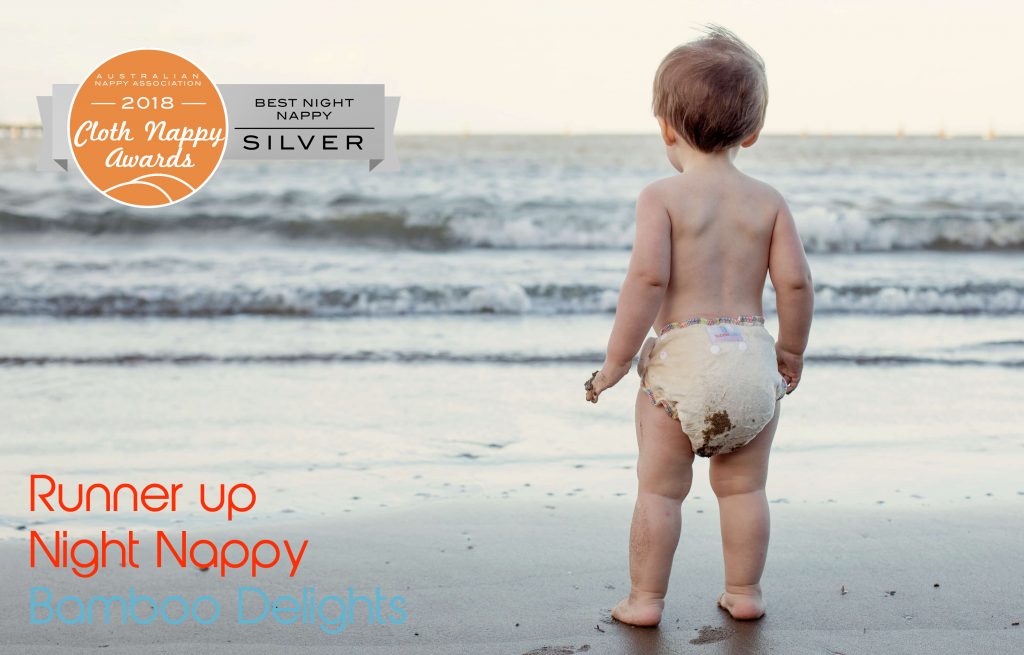 Runner Up night nappy - Bubblebubs Bamboo Delights
[/caption]
Bamboo Delights are an amazing option for night or day but here they shined as a customisable night nappy. They are a side-snapping fitted nappy made from bamboo velour so they are amazingly soft and easy to fit. The brilliant part is that you can boost between the Bamboo Delight and the waterproof cover, using as much or as little boosting as is neccesary for your bub. Check out this video to see how to do this.
[caption id="attachment_966" align="aligncenter" width="710"]
Best one size fits most modern cloth nappy - Bubblebubs Candies
[/caption]
Candies are our all-in-two one size fits most nappy. Now that's a lot of jargon that basically means they're easy to use, easy to wash and last from birth until toilet training! To learn more and read a review about Bubblebubs Candies check out this blog by one of our customers.
[caption id="attachment_967" align="aligncenter" width="710"]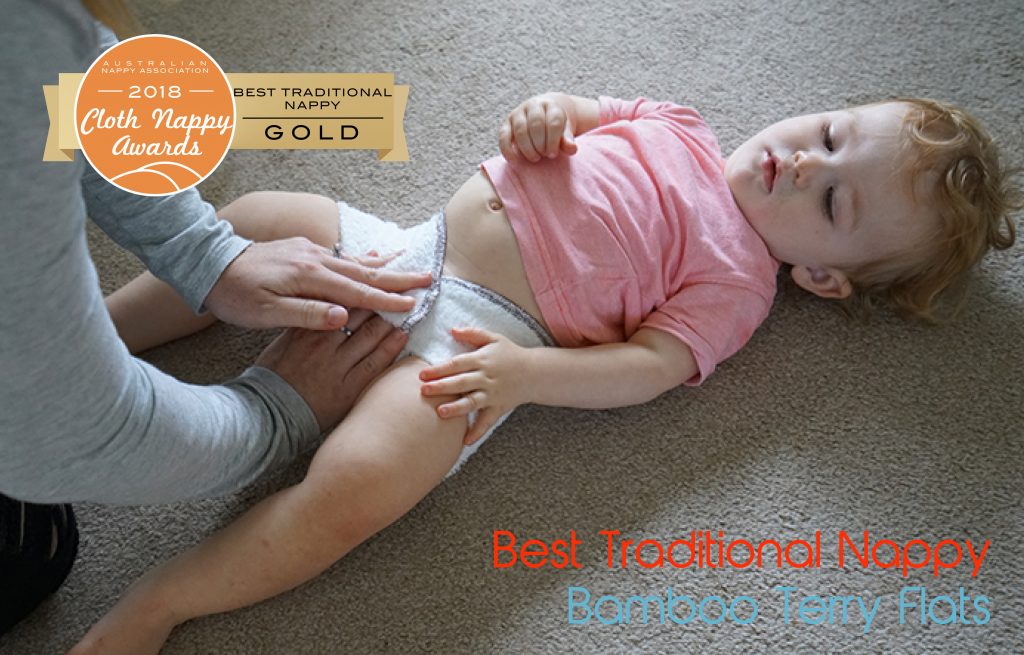 Best traditional cloth nappy - Bubblebubs bamboo terry flat
[/caption]
Flats are old school but should definitely not be overlooked. They are economical, durable, and infintely customisable so they will fit every baby every time. They are more work to fold, definitely, but once you do it a few times it becomes second nature. The Bubblebubs bamboo terry flats are luxuriously soft, incredibly trim and super thirsty. If you're after the best of the best when it comes to flat nappies look no further. If you want to learn more about why flats are awesome read our blog, 10 Reasons to Embrace Flats. To learn how to put a flat nappy on, check out this video.
Check out the Australian Nappy Association's website for a full list of winners.
In 2019, we were also lucky enough to take home a landslipe of medals in the My Child Magazine Excellence Awards. We were blown away by the support we received and so excited to bring reusable products to the forefront of a wider parenting market. To check out what products people loved in these awards take a look at this blog.