With winter drawing near, it's off to the pool rather than the beach with little ones this season. And what better way to continue to enjoy the super cute prints that are often covered by SPF 70+ wrist to ankle bulletproof wetsuits throughout the summer than at swimming lessons?
When it comes to swimming, whether you're in the waves or at the local rec. centre, one thing is for sure; you need a reliable nappy that is easy to use and tested for quality. So even though the warmer days may be on the way out, Bubblebubs Droplets swimming nappies are always in.
Just like Bubblebubs Candies, the Droplets are a side-snapping nappy. Unlike Candies, they're not a One Size Fits Most (OSFM), but rather a sized swim nappy with double snaps on the hips to ensure a snug and comfortable fit for all that energetic doggy-paddling. The double side-snaps mean that if there is a hot mess inside the nappy, you can simply unsnap it to remove rather than dragging the whole thing down poor baby's legs. No need to worry about embarrassing butt-brownies floating to the surface, as the elastics are firm enough to hold in… whatever needs to be held in, but are not so tight that they leave deep marks. Having said that, they do run smaller in comparison to say, Bubblebubs PUL gusseted covers which are VERY roomy. There is a size guide on the Droplets page, my advice would be to size up if bub has particularly chunky thighs. And if you're really unsure email the team to see what would best suit your baby or toddler. My 6 month old is 7kgs, has a little chunk in the thigh and a slim waist, and quite happily fits into a small with some room to grow.
Pro tip - Do remember that there is zero absorbency in swim nappies! So, unless you want to deal with the rains down in Africa in your car seat, it's best to save putting the Droplet on until you're at your swimming destination.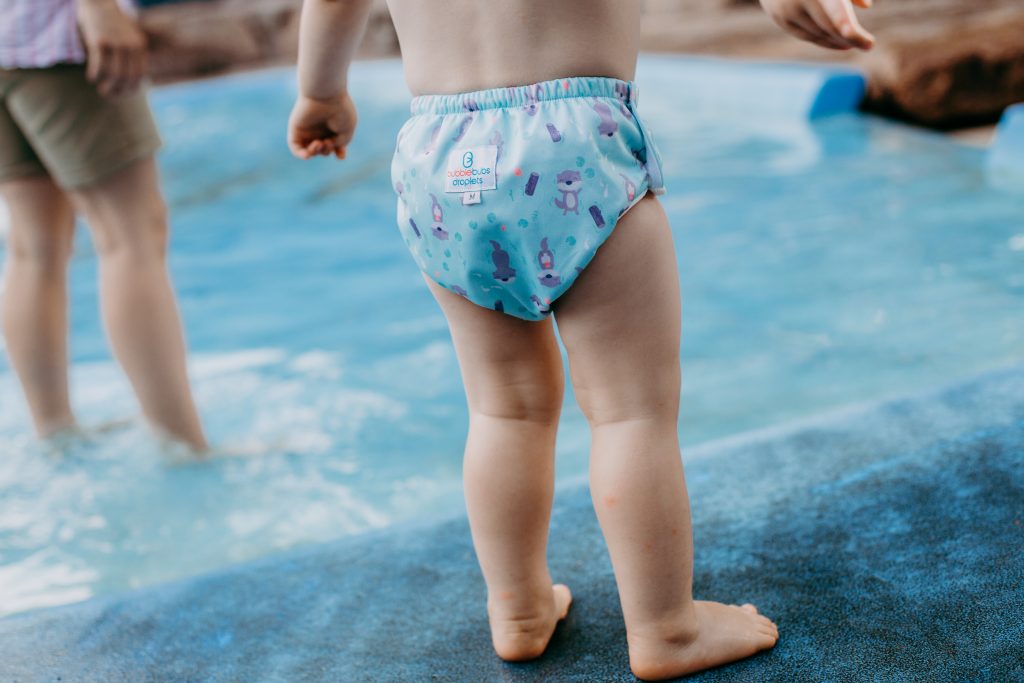 The retail packaging of the Droplets swimming nappies is equally thoughtful. Rather than coming in plastic, Dropletsarrive in their own mini-wetbag to match your chosen print. But don't let their mini-size fool you! I've managed to squeeze the swim nappy, a rash-suit, and bub's hat into mine to keep all her swimming gear in one place. Just grab and go!
The mini-wetbags are life-saving when the things nightmares are made of turn into reality and your little love lets a fudge-nugget loose mid-lesson! The nappy contains everything, of course. But, if you're not in the place to be dealing with soiled swimmers at that moment, you can chuck them in the mini and sort it out when you get home, just like you would any other nappy. Alternatively, I find that a good rinse in the shower before heading home is a perfect solution to get both chlorine and said nightmare out of your Droplets before throwing them in with your normal nappy wash. Minis are also super useful for housing phones and keys, and basically anything that you don't want to end up damp, as they not only keep the wet in, they also keep the wet out.
Even other sized wetbags in the Bubblebubs range come into their own when poolside. Double pocket wetbags come in handy; dry clothes can go in one pocket and wet in another. Or dry nappies and accessories in the large pocket and soiled car nappies in the front. You can also pop your own swim gear into a regular wetbag once out of the water, because, why should your babe have all the cute prints to themselves, amiright? We have recently taken to using an XL wetbag for our towels too. Not having an armful of all things saturated to take home in the car has been especially refreshing. Just throw everything into the XL and off you go!
Finally, the changemat is a must have but often forgotten swimming accessory, especially when you can almost guarantee the change tables at the pool will be soaking. Keep bubs nice and dry by stashing one of these in your pool bag. Bonus is, with some origami, they also fit into a mini.
So, yes, winter is on our doorstep but Bubblebubs still have you covered whatever the weather.
- Kat Edwards