A superior fit results in fewer leaks, which is why you opt for a newborn cloth diaper; they provide a better fit and prevent leaks.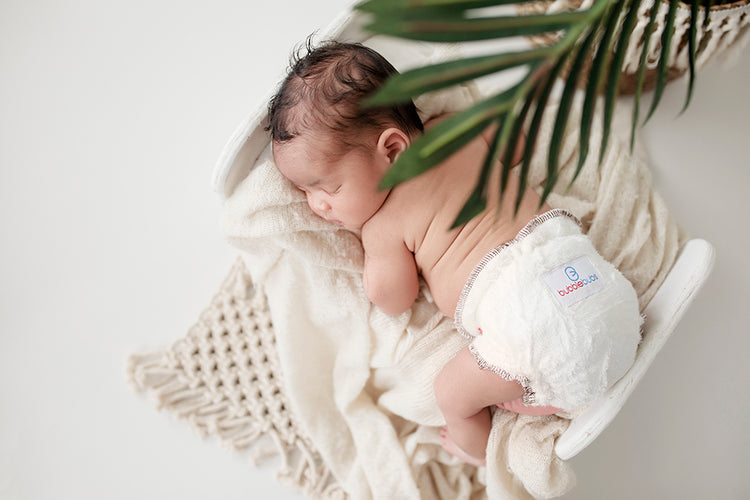 About Newborn Cloth Nappies
Every Newborn cloth nappy we make starts as a flat piece of fabric. The difference is the amount of work we do to make that nappy. That translates to the amount of work you have to do every time you put that nappy on. In the newborn stage, which is the first three months, you will change the nappy 10 to 12 times a day. Over three months, that is 1080 times. So if you can save 60 seconds putting on a nappy, that would be 18 hours it will save. When many of those changes take place in the middle of the night, you may consider that money well spent.
The other thing to consider is how well the nappy will fit a newborn and how well it will contain everything thrown at it.
So I have a chart to show you the difference.
Newborn Cloth Nappy Chart
| Newborn Cloth Nappy | Containment | Ease of use | Speed | Weight Range | Style | Needs Cover | Closure |
| --- | --- | --- | --- | --- | --- | --- | --- |
| Bambams | 👶👶👶👶👶 | 👶👶👶👶 | 👶👶👶 | 1.2kg to 8kg | Fitted | Yes | Snappi |
| BoPeep | 👶👶👶👶 | 👶👶👶👶 | 👶👶👶👶 | 2.5kg to 8kg | All In Two | No | Built In Snaps |
| Pebbles | 👶👶👶👶 | 👶👶👶👶👶 | 👶👶👶👶👶 | 2kg to 5.5kg | All In One | No | Built In Velcro |
| Flat | 👶👶👶👶👶 | 👶👶 | 👶👶 | 1.2kg to 8kg | Flat | Yes | Snappi |
| Prefold | 👶👶👶👶 | 👶👶 | 👶👶 | 1kg to 5kg | Flat | Yes | Snappi |
Bambam | Newborn Cloth Nappy
So let us talk about the Bambam first. The Bambam is our most successful newborn nappy. It holds everything your baby can "throw" at it. Because it's a fitted nappy, it contours to the shape of your ever-changing baby. It has soft elastic around the legs and waist to keep everything inside. If you add our PUL cover over the top, you have two layers of protection. Hence the term bulletprof
Learn More About The Bambam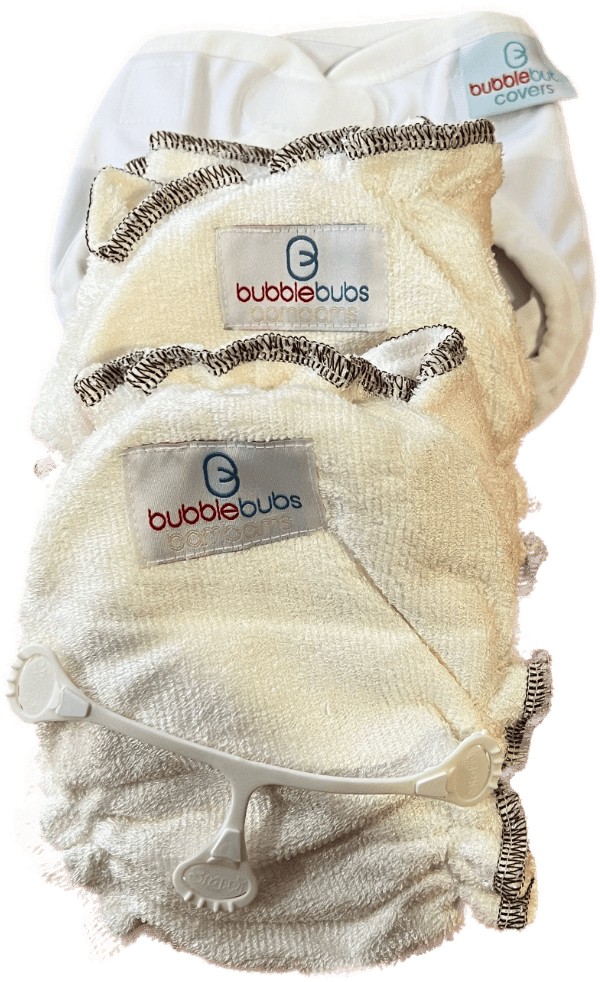 Bambam Trial Pack
Not only are Bambams incredibly reliable, but they are also incredibly comfortable for your little one. The soft elastic around the legs and waist ensures a snug fit without any discomfort. Your baby can move freely and explore their surroundings without any restrictions.
The added bonus of the PUL cover provides an extra layer of protection, giving you peace of mind knowing that leaks and accidents are kept at bay. Whether it's a messy diaper change or a long car ride, these nappies have got you covered.
What sets Bulletproof Bambams apart is their versatility. They are specifically designed to fit even the tiniest newborns. No matter how small your bundle of joy is, these nappies will provide a perfect fit. The two layers of thick and lush bamboo terry not only make them highly absorbent but also allow them to mold to your newborn's delicate shape.
With Bambams, you can say goodbye to leaks and discomfort. These fitted cloth nappies are a game-changer for both you and your baby. Experience the ultimate in comfort, protection, and convenience with these incredible nappies. Your baby deserves the best, and Bulletproof Bambams deliver just that.
Pack Includes.
2 Bambam Newborn Cloth Nappies
1 PUL Cover
1 Snappi
1 Change Mat
1 50% Off Your Next Purchase Voucher
*Conditions Apply*
Free Shipping (Australian Address)
Full Refund Guarantee. If You're Unsatisfied, Feel Free To Return Them. More Info
Was $88.20
Now$49.95
Buy Bambam Trial Pack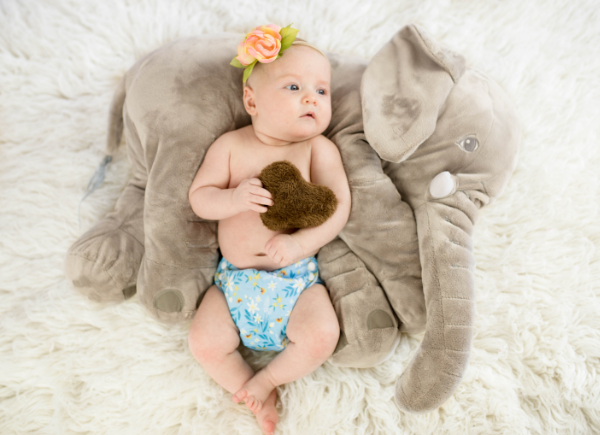 BoPeep | Newborn Cloth Nappy
The bopeep is a smaller version of the Candie, which is widely recognized as Australia's most awarded cloth nappy. It is specifically designed to fit babies from 2.5kg, which is the weight range for most babies.
One of the key features of the bopeep is its soft elastic that is strategically placed around the leg and waist of the nappy. This elastic ensures a comfortable and secure fit, preventing any leaks or accidents. The softness of the elastic also ensures that it does not leave any marks or irritate the baby's delicate skin.
Additionally, the bopeep is equipped with two rows of snaps. These snaps allow for easy adjustment and customization of the nappy's fit. Whether your baby is on the smaller side or has a slightly larger build, the two rows of snaps provide the flexibility to achieve a snug and perfect fit.
Overall, the bopeep offers a convenient and reliable solution for parents looking for a high-quality cloth nappy option for their little ones. Its smaller size, soft elastic, and adjustable snaps make it a practical choice that ensures both comfort and functionality.
Learn More About BoPeep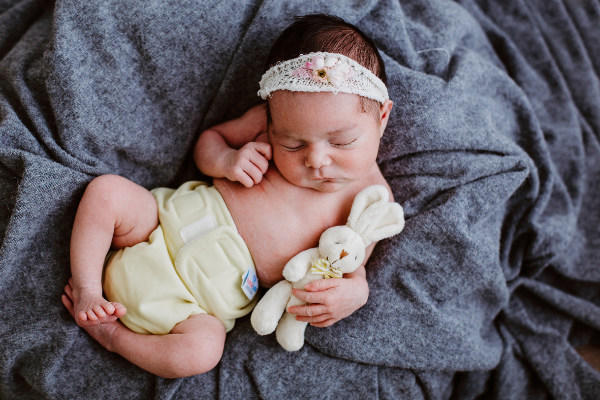 Pebbles | Newborn Cloth Nappy
A reusable all-in-one diaper is the closest alternative to a disposable diaper, with the only difference being that it's washable!
This cloth diaper doesn't require any folding or pinning. Simply stretch the diaper so that the elastics roll in, place it under your baby, and secure the velcro. It's quick to dry, fits snugly, and is adjustable. The Pepples all-in-one cloth diaper is the ideal diaper for your newborn.
Each diaper comes with a polyester PUL outer shell and a super soft Minky interior. The shell of the diaper includes a layer of bamboo for added absorbency. The intelligently designed leg elastics roll in to prevent any messy leaks.
The booster includes 2 layers of thick, absorbent bamboo. You can fold the booster to have the soft, stay-dry Minky against your baby's skin or bamboo, depending on your preference.
Pebbles infant fabric diapers are suitable for babies weighing between 2–5.5kg, providing a perfect fit during the initial months with your newborn.
Learn More About Pebbles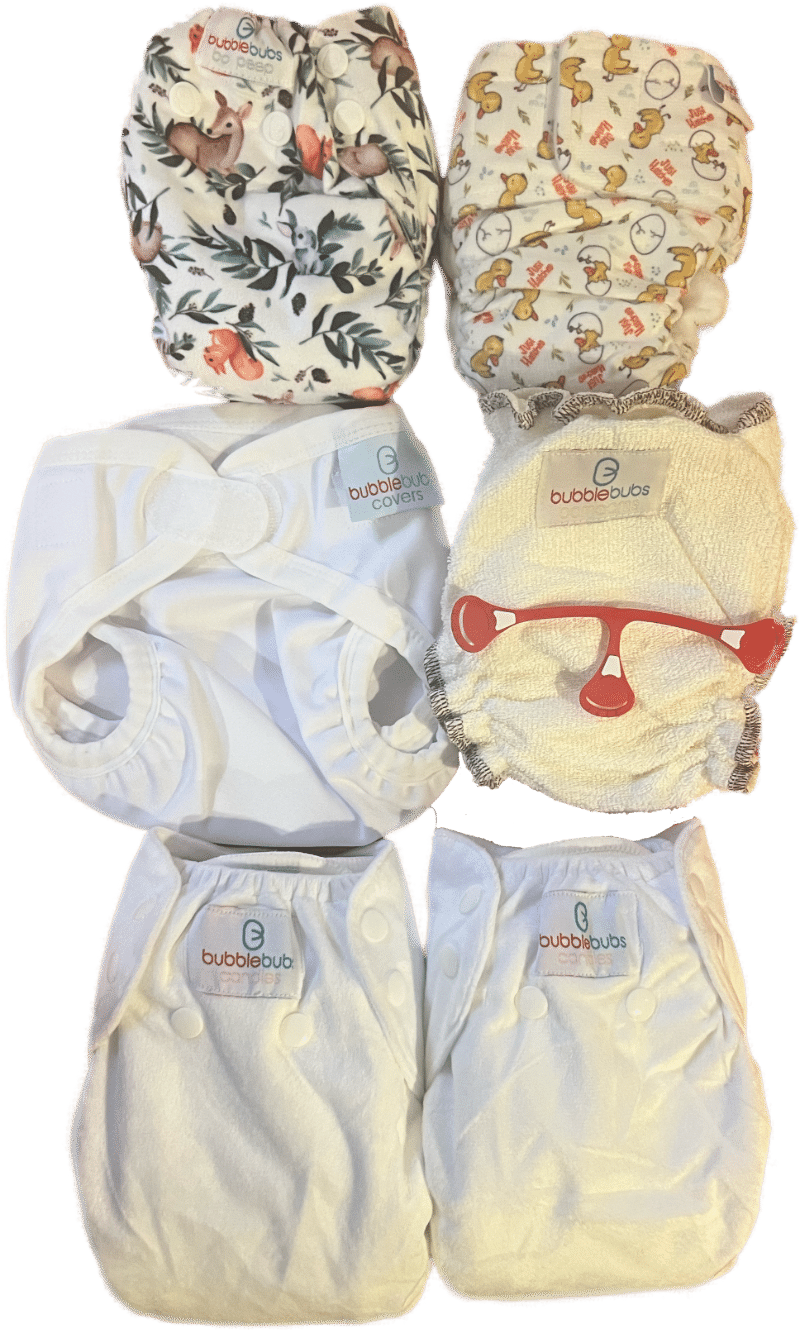 Birth to Toilet Training Trial Pack
If your baby hasn't been born yet, this is the trial pack to opt for. It allows you to test all our reusable newborn diapers. These diapers are designed to eliminate the need for disposable ones during the early stages, regardless of how tiny (1.1kg) your baby is. Having a reliable diaper is crucial as your baby changes shape and size. Given that you'll change a newborn up to 12 times a day, this is when you'll save the most money and avoid weekly trash overflow. These diapers can also be used for multiple children, meaning you only need to purchase them once.
Pack Includes:
1 Pebbles Newborn Nappy
1 Bambam Cover and Snap
1 BoPeep Newborn Nappy
2 Candie Infant to Toddler nappy
1 Change Mat
1 50% Off Next Purchase Voucher
*conditions apply*
Free Shipping
Full Refund Guarantee. If You're Unsatisfied, Feel Free To Return Them. More Info
Was $215.15
Now $99.95
Buy Birth To Toilet Training Trial Pack
Flat Cloth Nappy

These are the nappies your grandmother would have used. They are a simple flat piece of absorbent fabric you will need to fold to fit the baby. A great nappy for containment, but you will need to practice as not everyone is good at it when they start. You do need to put a cover over the nappy. To do it up, you will need to use pins (not recommended), a Snappie, or you can use the cover to keep it closed.

Learn More About Flat Cloth Nappies

Prefold

A prefold is also a flat piece of fabric, but we have added an extra layer through the middle. You do not need to prefold it to put on. But it can be a challenge, just like a flat nappy. It also requires a separate way to do it up like pins (not recommended) or a Snappie.

Learn More About Prefold

PUL Cover

Our Bubblebubs cloth covers are made with a breathable PUL fabric sandwiched between 2 layers of polyester knit. These super soft covers are fastened with HTH (high technology hook) tape. It's unique low linting design means it continues to grab well after other touch tapes have clogged with fluff, it is also a lot softer than traditional velcro's so it won't rub on your little one's skin.

These covers are made with a gusset giving extra protection against poonami's. Bubblebubs PUL covers are the perfect fit over our Bambams, Bamboo Delights, Flats or Prefolds, available in newborn, small, medium and large to give the perfect fit.

Learn More About PUL Covers
Choosing a selection results in a full page refresh.
Opens in a new window.